MOTOR, GEARBOX AND CLUTCH OPERATING AS ONE UNIT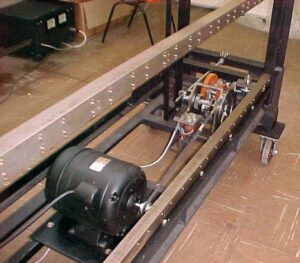 Saturday 26th May 2001 – We can now rotate the gearbox under DC power and operate the clutch from a temporary control box. We can also take the speed up to the full operating revs per minute by switching the motor to high-speed operation.
The new gears settled in very quickly and ran very smoothly. However, it cannot be said that the machine is particularly quiet.
The picture above shows the DC motor in the foreground driving the gearbox with the clutch visible to the front. The 220 VDC Power Supply can just be seen in the background
One of our major shortages is a motor that is exactly the same as the original. The one we have is very close but not exactly right.
More details on the motor that we are seeking
To see more details press here
To see the next stage of assembly press here