MECHANICAL PHASE NOW COMPLETE
REAR VIEW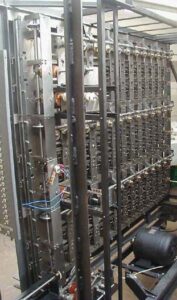 In this view above we can see the main Vertical and Horizontal Shafts. The vertical shaft is fitted with three bevel gears and six worms. It is carried in seven cast iron plain bearings. The three bevel gears can be seen where they mate with the bevel gears on the three horizontal shafts. These are not very visible. Also fitted to the vertical shaft are the six worms that drive the six worm wheels on the carry camshafts. These shafts rotate continuously but carry action only takes place when the associated solenoid is operated. The three timing devices are driven by spur gears from three of the carry camshafts. The index unit is driven by a second worm wheel off the bottom worm. In this case, two worm wheels are driven by the same worm.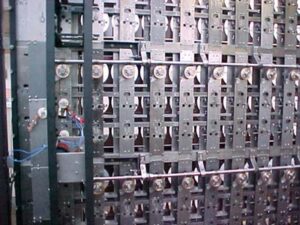 Compare this with the original
Above is a better view of the three special cams. On the far-middle left is the 240-degree cam that allows sensing whilst the carries are stationary. It fits on the end of one of the carry camshafts. A little to the right can be seen, the 'carry and home' cams. These are fitted to the middle and bottom indicator drum shafts.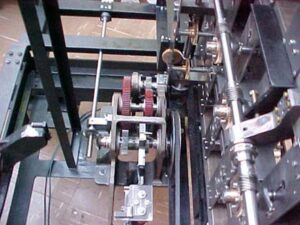 The lighting on this view is not good but it should be possible to see the main bevel drive from the output of the gearbox to the vertical shaft. The two worm wheels running on one worm, mentioned above, can be seen.
A better view of the bevel gear can be seen mounted on a short dummy shaft
To see more details press here
Volunteers who made this Second Milestone possible