MOULDINGS
Precision Mouldings are required in the drums to support the brushes and for spacers in the plugs that fit the ends of the cables used when plugging up a menu.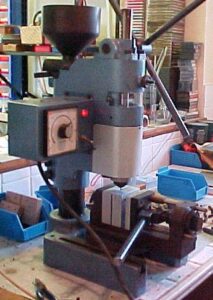 The moulding machine above was used for both items. The mould, below, having been made using precision spark eroding machinery. The material, in this case, comes in pellet form which we dry in an oven before use. The pellets are fed into the machine where they melt. This material now in stiff liquid form is forced into the mould where it quickly cools and solidifies.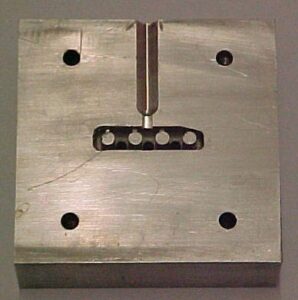 More on Plug Moulding Spacers
Return to Rebuild Programme Index
My Write at Home is an instructional series that is designed to improve functional writing skills through daily writing exercises. The books contain lessons on writing development, punctuation and the basics of grammar. These books also teach how to solve my math problem write creatively. Here are some suggestions I have found to aid you with the writing task. These are some tips on how to create a memorable article. You will get amazing results! Learn more details on the benefits of My Write at Home. My Write at Home series.
If you're in search of a good essay writer, you're in the right place. There pro essay writing are many reasons to utilize an essay writing service. The majority of the people use them for a reason: they lack time, or thereof. Many of these people are working parents or have a part-time job with no time to finish a project for themselves. The majority of essay writers are non-native English speakers who come from Eastern Europe. Customers are typically male and female and 70% of customers who are first time buyers come back to buy more essays.