FRAME & HORIZONTAL BARS
This was made up of new and second-hand steel as close to the original specification as was possible. Some of the original imperial size sections were no longer available but we were fortunate in being able to locate sufficient used steel for our needs. Heavy welding equipment had to be used to construct the frame which when attached to the base castings weighs around 7 cwt. (approximately 780 lb. or 350 Kg)
HORIZONTAL BAR DRILLING JIG
The original estimates to have the four horizontal bars manufactured commercially came well into five figures so we decided to make these ourselves. In order to achieve this, we had to manufacture a very accurate drilling jig. Over 450 holes were drilled in total and about half of these tapped to take threads.
HORIZONTAL BARS
There are 4 heavy crossbars which are bolted inside the front of the frame and to which are fitted all the wheel drive plates, drive mechanisms, drums, carry system, lubrication etc. Obviously, these have to be machined accurately.
BASE CASTINGS
The two heavy steel base castings were produced at a local foundry These are about 2′ 4″ [700 mm] x 4″ [100 mm] x 4″ [100 mm] in size. They fit at each end of the frame with the main heavy steel sections bolted to the top face and the castor plates to the bottom. We found a BTM drawing of this casting as used on a Hollerith Senior Rolling Total Tabulator which was modified to remove the Tabulator specific machining. From this drawing, a wooden pattern was made.
We used a foundry situated about four miles from Letchworth that have made agricultural and general castings for over 130 years. It is possible that they supplied BTM in the 1940s being local but no records are available to prove this.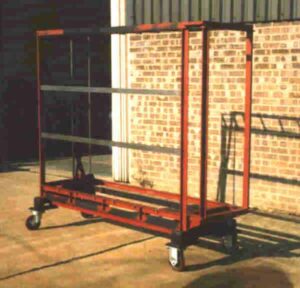 OUR NEW FRAME LEAVING THE FACTORY IN SEPTEMBER 1997
AT BLETCHLEY PARK
To see the next stage of construction press
Return to Rebuild Programme Index