CHECKING MACHINE DRUMS
Checking Machine Drums are similar in most respects to the main drums used on the standard Bombe
However there are two main differences.
The hubs have additional locating ball holders that allow a bezel to be rotated to a given position in relation to the core of the drum. This simulates the rotatable 'RingStellung' on a German Enigma machine.
The second difference is that the multi-strand wire brushes are replaced by beryllium copper 'spoon' shaped contacts. These allow a drum to be turned in either direction by hand.
These 'spoons' were later used on the High Speed Keen (HSK) at its very fast end on the 36 very fast drums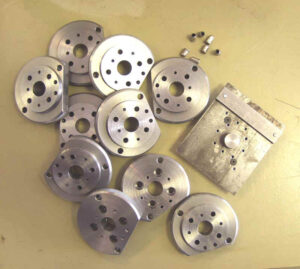 Return to Rebuild Programme Index